The Oze-Energies scale-up has designed a global technical solution for buildings to reduce energy consumption, improve the thermal comfort of occupants and the indoor quality of the air. These advantages have become essential a few months before the implementation of the Tertiary Decree.
And this at a lower cost by optimizing its  "Capex" budgets While increasing the market value of its assets by securing its rental income. Optimzen makes buildings more economical, more comfortable and healthier", summarizes the CEO. These are all arguments that encourage the renewal and signing of new leases in the current difficult context.
MAKING BUILDINGS MORE INTELLIGENT
While the Tertiary Decree has set the goal of reducing energy consumption in the tertiary sector by at least 40% by 2030, optimizing the energy expenses of each building has become a major challenge for both owners and lessors. Considering this regulatory obligation as an opportunity to adopt a cross-cutting approach to buildings that will serve the interests of property owners, tenants and the entire ecosystem, Oze-Energies has set itself the task of bringing more intelligence to existing buildings by avoiding unnecessary "materials" (energy flaws and renovation work). Its goal : to perform financial and energy savings, while improving thermal comfort and indoor air quality. Its Optimzen solution uses communicating sensors and artificial intelligence to provide a detailed analysis of a building's consumption and improve its management by the facility manager. "The implementation of a technical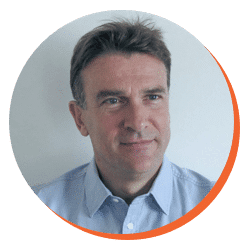 solution must also take into account the organization and the people, and be translated contractually. We negotiate energy performance contracts with maintenance companies and energy suppliers on behalf of our clients. They include quantified and measurable goals for consumption, comfort and indoor air quality, which are monitored thanks to our shared measurement and analysis solution," explains Gilles Nozière, CEO of Oze-Energies.
25% ENERGY SAVINGS WITHOUT RENOVATION WORK
The independent company equips 4 million m2 of offices and collective housing in France and Europe. Relying on a team of energy engineers, salesmen, technicians and energy managers, data scientists and computer scientists, it is able to respond to a number of building-related issues. All sensor data and energy bills are on the Optimzen platform (Operat compatible), which can be consulted on a smartphone or computer, and then analyzed by an artificial intelligence that will produce a list of dynamic recommendations for optimization (heating,air conditioning,temperature, etc.) capable of integrating weather forecasts for several days. As a result, Optimzen performs an average of 25% energy savings, without any renovation work, thanks, for example, to a better understanding of the dynamics of office buildings. "In only six months after its installation, the solution is generally payed by the energy savings alone," says Gilles Nozière. The building owner thus has indicators on three essential metrics: euros, kilowatt-hours and carbon footprint. "It will avoid the regulatory obsolescence of its assets in the context of the Tertiary Decree.
AN ALTERNATIVE TO 100% CONSTRUCTION
Finally, because renovation work rarely brings the expected results in terms of savings and sometimes even leads to malfunctions due to the increased complexity of the installations, it is important to make a complete diagnosis of the building before acting. Through its Optimzen Gold offer, Oze-Energies performs a complete audit of the building with the aim of minimizing any work required and making it more efficient. "We offer an alternative to a 100% renovation works solution. Our solution is also an insurance on the real efficiency of the possible complementary renovation works, necessary to reach the goal of 40% of the Decree",says Gilles Nozière. By not limiting the Tertiary Decree to the works component, but by broadening the spectrum to include thermal comfort, indoor air quality and SRI. Oze-Energies aims to bring added value to all stake holders in the tertiary real estate ecosystem, so that everyone, from the owner to the service providers, benefits. This virtuous approach also aims to secure the market value of buildings and anticipate future environmental regulations. "The function of a building is to provide the best possible shelter for its occupants. By bringing more intelligence with our Optimzen solution we improve thermal comfort and indoor air quality while using less materials and performing 25% savings.These savings cover more than the cost of this additional intelligence." concludes Gilles Nozière.